Apprenticeship Suffolk have been into school offering a lunchtime drop in session in the lead up to National Apprenticeship Week.
Apprentices earn a salary while working towards a nationally-recognised qualification.  Apprenticeships are available at Intermediate level (GCSE equivalent), Advanced level (A-level equivalent) and up to Higher and Degree apprenticeships. 
Apprenticeship Suffolk offered a great opportunity for our students here at Stradbroke High to find out more about how apprenticeships work and whether an apprenticeship would be the right route to consider. 
We also had the company of ex pupil's Lewis Whatling and Melissa Leach who are both in the process of completing apprenticeship programmes.  
Lewis with 'Ensors' in Chartered Accountancy and Melissa with 'Blue Sky' in Business, Sales and Marketing.
Please see links below for further information on the type of apprenticeship opportunities these companies could offer you.

Further information also available from your School Library.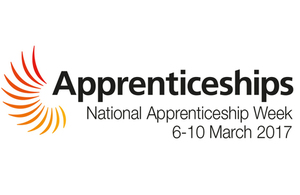 The 10th National Apprenticeship Week (NAW 2017) will bring together employers and apprentices from across England to celebrate the success of apprenticeships over the last decade and will seek to encourage even more people to choose apprenticeships as a fast-track to a great career.